Summer Hours of Operation
From May 20 thru July 26, 2019
Monday – Friday
9:00am – 5:00pm
*Scout Shop CLOSED for Inventory July 1-5, 2019
We will resume normal business hours on July 29, 2019.
Thank you for your support of Scouting!
---

Savannah Scout Shop
11900 Abercorn Street, Savannah 31419 (912) 927-7272 ext. 200
(GPS address: 900 Mohawk, Savannah 31419 will take you to the business across the street from the entrance to our parking lot)
Store Hours*
Monday - Thursday 9am - 6pm
Friday 9am - 5pm
---
Brunswick Scout Shop (Camp Tolochee)
133 Ashley Marsh Drive, Brunswick (912) 927-7272 ext. 221
Open Tuesdays and Thursdays from Noon until 5:00PM*
STORE WILL OPEN LATE (2PM) ON JUNE 6th and will
BE CLOSED ON JUNE 11 & 13, 2019
Lisa Sanchez, Sales Associate will be glad to help with your scouting needs.
---
Special Saturday Hours (Both Savannah & Brunswick Locations)
10am-2pm
Jan 12th Feb 2nd Mar 2nd Apr 6th May 4th
June 1st Aug 24th & 31st Sept 14th 21st 28th
Oct 5th Nov 2nd Dec 7th
---
*Holiday Hours 2019
Savannah and Tolochee Stores are CLOSED for the following Holidays
January 1st - New Year's Day January 21st, Monday - Martin Luther King Jr. Day
February 18th, Monday - President's Day April 19th, Friday - Good Friday
May 27th, Monday - Memorial Day July 4th - Independence Day
September 2nd, Monday - Labor Day November 27th, Wednesday - Early Closure 2pm
November 28-29 - Thanksgiving Holidays December 24-25, - Christmas Holidays
January 1st, 2020 Wednesday - New Year's Day January 20th, Monday - Martin Luther King Jr. Day
Closure due to Inventory - July 1-5, 2019 and January 2nd - January 7th, 2020
---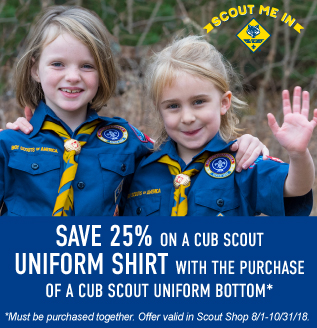 Want to order a Cub Scout Uniform?
Here's a convenient order form:
Cub Scout Uniform Essentials Order Form 2018
Have a Special Order for Eagle Scout Recognition?
Looking for a Special Gift for Scout or Scouter?
Wanting your Unit orders shipped?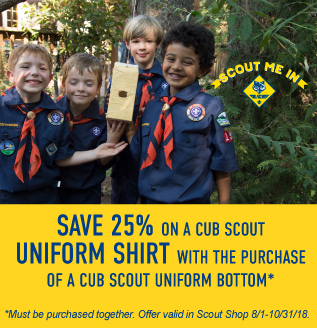 Here's a convenient order form:
No worries. We can help!
Just email your request to Grace Campbell, Scout Shop Manager at grace.campbell@scouting.org
Need your order ready for EASY PICK UP? We'll notify you when your order is ready. Please NOTE: Large orders may take a few days to fill.
PLEASE NOTE: Special Orders need 2 weeks notice.
---
We are a proud part of the Coastal Georgia Council Service Center.
Ready to serve and assist you and your unit. Feel free to contact us with any questions concerning advancements and awards, patch placement, program and special events.
Visit https://www.scoutshop.org/ items can be shipped directly to your home.
(Does NOT apply to Awards or Advancements)
---
Need Uniform Items but the Scout Shop is too far?
Units MUST schedule at least 2 weeks in ADVANCE.
to schedule a visit from the Mobile Scout Shop.
Our MAIN focus is Units located in the Western areas:
Satilla - Jeff Davis, Bacon, Toombs, Appling, Ware, and Pierce.
Twin Rivers - Screven, Chandler, Evans, and Bulloch
Altamaha - Toombs, Wayne and Long
Coastal - Charlton and Camden
These units have 1st priority as they are the furthest away from Savannah or Brunswick Scout Shop locations. However, please contact the Scout Shop for further information.
Need New Scouting Supplies?
Order your Cub Scout Essentials EARLY - form attached. Send in your order form. It will be our pleasure to hold your order or mail it (shipping & handling charges apply).
---
Need more Camping Tips?